Make Me Wanna Holler, Throw Up Both My Hands.
The cover art from Marvin Gaye's record
What's Going On
, perhaps the most overrated-but-still-totally-motherfucking-awesome soul record in history,
is being used in ads for Hennessy.
Like so: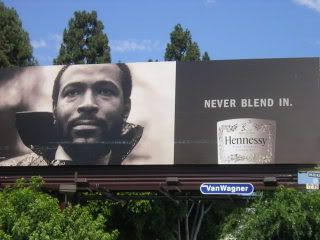 What is Marvin's estate thinking? A deluxe reissue of
What's Going On
was just released, along with a double-disc Motown retrospective. Surely there are plenty of royalties pouring in. Or was this completely unauthorized, like Nike Skateboarding's 'Major Threat'
campaign
, which ripped off the cover of a Minor Threat album? (Ian McKaye loved that by the way. Everyone at Dischord are
huge
Nike fans.)
The part that really irks me is that they used the cover art from
What's Going On
, the first real soul protest record, which shed light on war, urban plight, environmental issues, etc. Couldn't they have used Marvin circa 1980, caressing his Hennessy the way he would his finest (or most timely) sexual conquest (read:
woman
)?
Also, there's the part about Marvin Gaye being
murdered
by his jealous and, notably, ALCOHOLIC father. I surely must have mentioned that before.